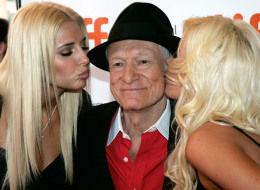 Hefner is notorious for dating several much younger women at a time and having crazy parties at the Playboy mansion in Los Angeles. He had a TV show called The Girls Next Door for 6 seasons that revolved around his three girlfriends and himself.
In an interview, he matter of factly said that "The notion that Playboy turns women into sex objects is ridiculous. Women are sex objects. If women weren't sex objects, there wouldn't be another generation. It's the attraction between the sexes that makes the world go round.
That's why women wear lipstick and short skirts." Hefner as been known to call Viagra "God's little helper" and says he has sex twice a week. The man is 86 years old. At some point one has to let go of the bachelor lifestyle, but ol' Hef presents himself to the world as the ultimate bachelor. I wonder how his daughter feels to know that her dad sees her as an object.