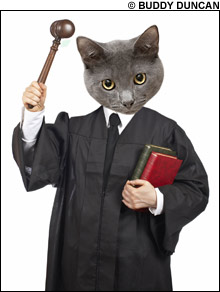 Massachusetts couple Anna and Guy Esposito received a strange court summons in the mail this past month. It was not for either of them, but for their cat Sal! The reason for the mix-up is because Anna had listed Sal as a member of the household during the recent U.S. census.
Naturally, Anna proceeded to attempt to get the cat disqualified from the duty on the grounds that Sal is "unable to speak and understand English." She also enclosed a letter from their veterinarian which stated that Sal is not a human but instead a "domestic short-haired neutered feline."
In a bizarre turn of events, the court rejected Anna's appeal! This means that Sal is required to report to the local court on March 23. Anna expects that Sal will be required to meow when asked to give his verdict on a case.
(
source
)